Our treehouse was high in the canopy of a misty jungle. We woke to the sounds of exotic birds singing from a neighbouring tree and gibbons calling in the distance. This was the perfect treehouse adventure.
Nam Kan National Park is set in a mountainous region in western Laos near the border with Thailand. This land of steep jungle covered mountains and deep, lush river valleys is home to many animals including shy Gibbons. Scattered throughout the park are 11 treehouses that can only be accessed by ziplines. The 15 km of interconnected ziplines and multiple trekking trails allow you to explore a large part of the park. We spent three days ziplining and trekking through the dense jungle and two nights high up in the jungle canopy in rustic but idyllic treehouses.
On the first morning, after a bumpy jeep ride to the park, we trekked up and down steep trails through the hot jungle. We stopped for lunch and a quick boccia tournament where Richard's team beat the Laos guides! After the boccia games we received our harnesses and pulleys that we would use for the next 3 days of ziplining.
With our harnesses on, we took a short ten minute hike to reach our first zipline. The long wire was strung between the sides of the steep river valley. It was so long we couldn't see the platform on the other side. After instructions and a demonstration, it was time to go. What an exhilarating feeling to be that high, moving across the sky and looking down on the valley far below. We soared above the tree tops on zipline trails in the sky connecting mountains and crossing streams. The only sound we heard was the hum of the pulley along the wire.
The ziplines are set up with very little height difference between each side ensuring you aren't going too fast when you arrive at the landing platform. Because of the flatness of the lines though, if you don't have enough speed or if you spin on the wire, you may not make it to the platform. If this happens you have to pull yourself the last few meters to the landing platform. It was always a contest to see who could make it to the platforms without having to pull themselves.
On the first day we zipped across 11 lines with plenty of hiking in between. Our longest zipline was 500 m long. It was also the highest at 195 m above the valley floor and gave us amazing views of the river.
The last zipline of the day brought us to our first treehouse. It was a cute wooden, 2-storey treehouse with an open living/dining/sleeping area, a small kitchen for washing dishes and a bathroom with a rain shower. The second level had a small bedroom. Richard and I were lucky to have this room while the rest of our group slept on the 1st floor.
The treehouse was built around a massive tree, 55 m above the ground. The tree's branches were incorporated into the design of the tree. In fact, each treehouse is different and is designed based on the shape of the tree. Being this high above the ground gives you a different perspective of the surrounding canopy.
The first night we practiced an emergency evacuation by ziplining quickly to safe ground far below. There is no other way in or out of these treehouses so it could be dangerous during a large wind storm. Learning how to quickly evacuate is important.
After the emergency drill we were treated to a dinner of rice, garlic fried eggplant, marigold stems and mushrooms! In typical Laotian tradition, after dinner we shared a bottle of Lao-Lao (rice whiskey) while our guide told us traditional Lao folk stories.
The next morning our breakfast arrived by zipline, a unique delivery method. There are no stoves or fires in the treehouses, so our guides had small huts on land for cooking.
After breakfast we ziplined 3 or 4 wires and then trekked to a small waterfall where there is a zipline for jumping into a deep pond. It was a nice refreshing dip after a hot jungle trek.
In the afternoon we had another 8 ziplines back and forth across the valleys to get to our second treehouse. The longest was also 500 m and crossed a deep river valley. The second treehouse was also 2-stories. The top floor had an open area for sleeping, living and dining. The first floor had only entry and exit platforms and a bathroom. Ziplines are only used in one direction including getting into and out of treehouses. There were always separate entry and exit platforms at each treehouse.
Before dinner our guides made us jungle tea from roots they picked on the day's trek. It was really good and tasted like licorice.
The next morning we woke early to find the treehouse enveloped in mist. It was so thick we couldn't see past the immediate trees. Somewhere in the misty jungle we could hear gibbons howling. It was surreal to hear their distant 'hoos' from our treehouse. We didn't see any gibbons, but finally hearing them, meant they were out there, swinging around the same jungle that we were. A few of us went for a few more ziplines before breakfast. It was really fun to fly through the mist, unable to see your destination.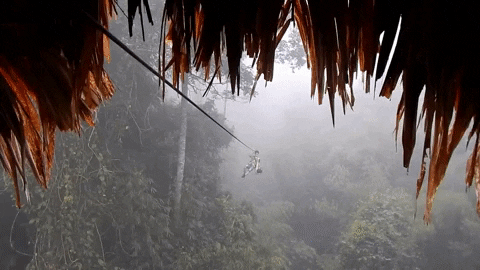 After breakfast we ziplined out of the treehouse and across the river valley and then trekked out of the jungle for a couple of hours to reach our ride back to town. This trip was one of our favourite adventures in Laos.
Watch our short video to see what it's like to zipline through the jungle.
Have this adventure yourself
Tours and treehouses are operated by The Gibbon Experience and are based in Huay Xai, Laos. They offer guided single and multi-day trips to their treehouses on over 15 km of ziplines. The park has a number of resident gibbons, but unless you specifically sign up for a gibbon sighting trip, you're not likely to see them.
For extra pics from this trip go to Gallery/Laos. For extra pictures from other blogs go to Gallery at monkeystale.ca Click on a picture to view it as a slide show.
To read about our other adventures in Laos, or in other parts of the world visit Destinations.
If you like what you read, please share it with credit using the links below.